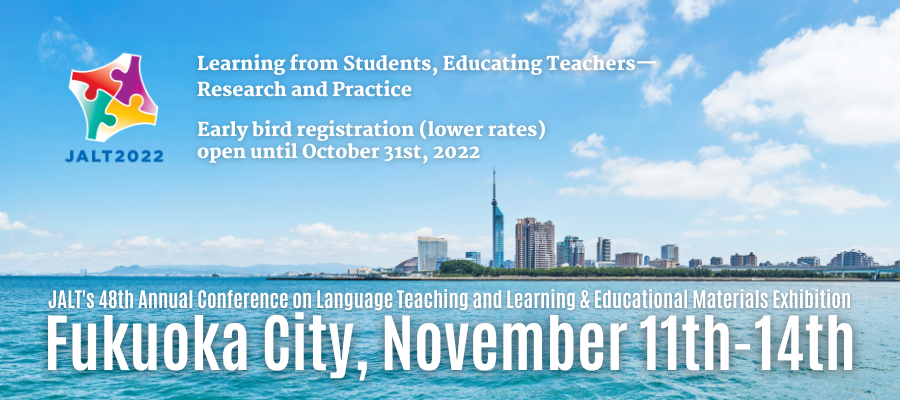 The JALT2022 Conference will take place face-to-face in Fukuoka City from Friday, November 11 to Monday, November 14. Conference registration and payment is now open on the conference website.
The TD SIG will be holding a forum titled "Students' Aiding Teacher Development" on Saturday November 12th (12:45-14:15) in Room 407.
The forum will be coordinated by one of the SIG's Program Chairs, Ross Sampson, and the presenters will be: Kent Hill, Nick Kasparek, Kathryn Yamagishi, Jon Prevatt, Ewen MacDonald, and Adrianne Verla Uchida.
The following is a description of the forum:
With people positively influencing each other in every walk of life, it is understandable that within a language classroom, students can and do positively impact their teachers in direct and indirect ways all the time. When shared, these stories of how students have aided teacher development can be fascinating to hear and can have important lessons for educators. We are looking for presenters to share their stories of how they have been impacted by their learners in a way that has aided their own development.
Using tablets, laptops or paper, presenters will share experiences through 6-minute speed-slide presentations with time allotted evenly to each slide, followed by short Q&A periods, and concluding with a wider discussion. Each presentation will be given several times to multiple audiences so that attendees and provided a range of topics, with the goal of providing all of those in attendance at least one valuable takeaway.
Prior to the forum, the TD SIG Annual General Meeting will be held from 12:10-12:35 in the same room. 
SIG Officers will report on the recent activities of the group, and share information and news about the SIG's events, membership, and publications. Ideas about the SIG's future will also be discussed, and officers for the year ahead confirmed. A call for volunteers for officer positions will be made in a separate email.
We hope to see you at the conference!