JALT PanSIG 2021 will take place from Friday 14th May to Sunday 16th May. Originally planned for Mishima, Shizuoka Prefecture, the conference will be held online due to ongoing concerns over the COVID-19 situation. The conference website is pansig2021.eventzil.la
The TD SIG is delighted to be facilitating a forum with the Intercultural Communication in Language Education (ICLE) SIG, titled 'Developing an Intercultural Understanding as Teachers'.
This will be held on Friday May 14th from 19:00-20:30.
The following invited three speakers will be presenting on the following:
(Presentation 1) Prof. Yoko Munezane (Rikkyo University) – From Friendship to the Interconnected World: Theory & Application of the New Model of Intercultural Communication
(Presentation 2) Prof. Stephen M. Ryan (Sanyo Gakuen University) – Things I Wish I'd Known about Culture When I Started Teaching
(Presentation 3) Prof. Helen Spencer-Oatey (University of Warwick) – Building an Interconnected World through Fostering Global Fitness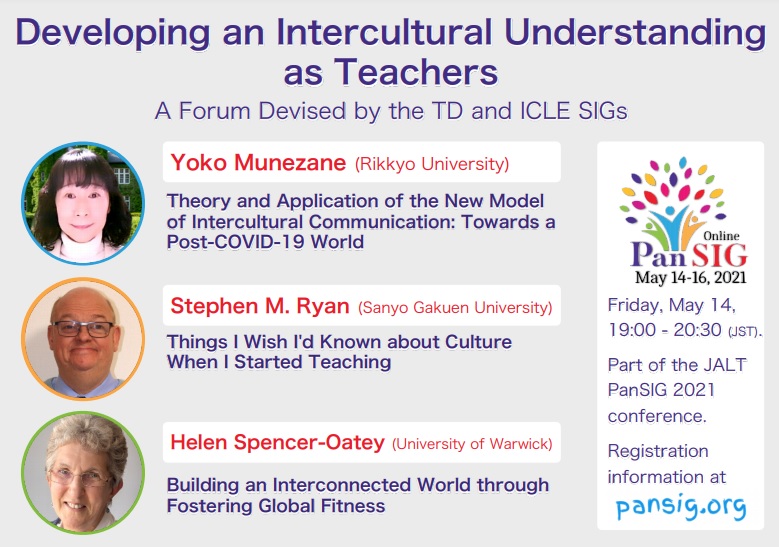 The following is a description of the forum: 
Language teaching involves a commitment to, and interest in, intercultural communication. In providing language learning instruction, practitioners are not merely sharing linguistic knowledge and skills in a one-directional manner, but are continuously negotiating and learning from their students' dynamic experiences, repertoires, and identities. As English is a lingua franca, which facilitates communication across cultures, a sensitivity to the intricacies of interaction between groups from different speech backgrounds is essential. In an era characterised by division and remoteness, language educators' roles have become even more paramount in upholding and promoting intercultural mindsets. However, these skills may be overlooked or complicated to build
and hone.
This forum is a collaboration between the Teacher Development (TD) and Intercultural Communication in Language Education (ICLE) SIGs. Featuring a panel of invited speakers from the SIGs, each presenter will explore a different element of what developing intercultural practice, understanding, and principles as a foreign language educator entails. Following the presentations, the panellists will interact about points of interest and resonance, and there will be an opportunity for audience participants to share their reflections and contribute to the dialogue. It is hoped that this session will provide guidance for developing intercultural teaching approaches and language learning environments.
Click here to register for the conference.